Alyssa seems a little ditzy, but give her a break. "I'm a little horny," says this 18-year-old, 4'11" cutie from Orlando, Florida. Alyssa has A-cup titties with prominent, speckled areolae, She has a cute little ass that she loves to show off for our viewing pleasure. She bends over and spreads her butthole, then bends over a little further, so much so that your cock's going to start to ache. She lays down on the couch, plays with herself, rubs her pussy, spreads her legs a little wider, rubs her pussy more vigorously. She has thick pussy lips. A guy walks over. If he were a gentleman, he'd eat Alyssa's pussy. But he's not. And since she's a lady, she takes out his cock and strokes it. "You have a nice cock," she says as she tugs on his dick while fingering her pussy. "It feels amazing." The guy ends up cumming on her face. It looks amazing.
More Amateurs »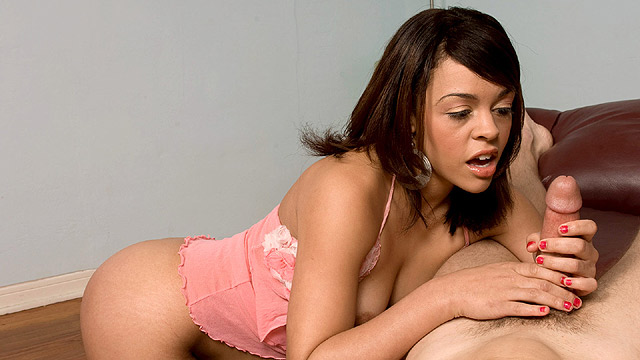 When this video opens, Bella Rios, a 19-year-old from Syracuse, New York, looks so cute sitting in the corner, like a student who's done something wrong. But Bella hasn't done anything wrong. Far from it. With her short, denim skirt, sexy heels and revealing top, Bella is 100% all right! "I'm gonna give a hand job," she tells our interviewer. You'll enjoy Bella's B-cup tits, firm ass and hoopy slut earrings. "I've never done this before," Bella says as she prepares to handle the cock. "This is my first time on camera." We think she has a future. She looks so happy when she's jacking the cock, smiling a lot, handling the cock expertly. Our interviewer asks, "Are you sure it's your first time?" Hey, buddy, stop asking so many questions. Can't you see the girl's busy!
More Amateurs »
Shaye Bennett, a 20-year-old student from Bangor, Maine, wastes no time taking off her clothes--what little there is of them--at the start of this video. Yeah, it's a sexy outfit, but she knows we'd rather see her naked. Then she bends over. "I know you like my ass," she says before teasing, "So, is that cock getting hard yet?" You know it is. "Come over here and let me stroke it for you." Obviously, if Shaye were in the military, she'd be the one barking out orders. "COCK OUT! STAND AT ATTENTION! STROKE IT, CADET!" We love how Shaye strokes this guy's cock through his shorts. We love how she lubes it up and strokes it from top to bottom, how she stares at the hard-on so lovingly. "I do love it," Shaye told us. "To me, the only thing that's more beautiful than a hard cock is a hard cock that's spurting cum. Preferably on my face." That can be arranged, Shaye. Now, at ease!
More Amateurs »
Sherry is only 20 years old (from Georgia by way of Pennsylvania) and she's already jacking cocks in front of the camera. She's good at it, too. You see Sherry is a naughty girl. She is a nasty girl. She loves hard dick. "My sexual fantasy involves two bitches and some whipped cream," she said. She masturbates once in a while but not too often because, "I get all the dick I need whenever I need it. I'm not afraid to ask." When Sherry posed for these photos, she said, "I love showing off my ass. I do it whenever I can." She also said, "It's only a matter of time before I suck and fuck on camera. But this is a lot of fun for starters. Making cock cum is fun," she said. It's fun to watch, too. When this video opens, Sherry is sitting on a bed, and she looks like she wants it. Wants cock. Turns out that her job is to find out if the guy we just hired has what it takes to be an on-camera stud. Well, Sherry is a bad judge of that because she could get a dead man hard with her hot body and naughty talk. "Do you like that ass?" she says as she slaps it. "Why don't you come over here so I can play with your cock." The guy doesn't need to be asked twice. He comes over, and she takes his dick out. "Oh, I like this big, long cock," she says. "Does it feel good, baby? I want to put your cock in my mouth. Maybe next time." She uses long, slow strokes, then he gets on his back and she jacks his cock wit her ass in the air. "I just love to stroke cock," she says. "Do you wish this was your cock?" Uh, it isn't?
More Amateurs »