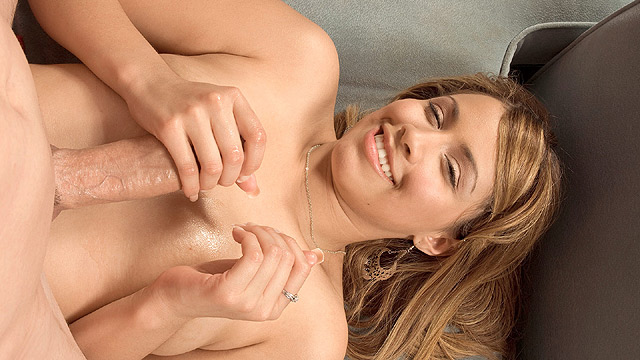 "Most guys go for my ass first when they get me in bed," said Nena Linda, a 21-year-old with a big, round white butt that we'd love to fuck. "Every guy I've ever been with has wanted me to stick my ass up in the air when I give him a blow job. A lot of guys like when I sit on their face, too." Nena loves to work her ass. She loves to give lap dances with her ass (even though she isn't a lap dancer; she's a student). In these photos and the accompanying video, the hot-assed white chick really shows that she knows how to work her ass. "What can I say?" she said. "I can make guys cum with my hands, mouth or pussy, but my ass always works best." Nena Linda, 21, wants to go to the movies, but her deadbeat boyfriend just wants to sit on his ass. We don't blame him with a piece-of-ass like Nena around. "I know something that can get you up," Nena says and then she gives him a lap dance, grinding her big ass into his crotch. Turns out she isn't wearing any panties. Turns out she really doesn't want to go to the movies. She turns around and takes his cock out, then jacks it from our point of view. She spits on it and jacks it in short, fast strokes. "Look at that cock," Nena says, suddenly no longer interested in the movies. "I'm gonna jack the shit out of it!" She slaps the cock against her cheek and plays with his balls. She's a fast cock-jacker and by the sound of it, the cock in her hands will be shooting milk in no time. What happens next? You know what happens, but we'll tell you this: There's plenty of widespread pussy and ass involved.
More Amateurs »
Alyssa seems a little ditzy, but give her a break. "I'm a little horny," says this 18-year-old, 4'11" cutie from Orlando, Florida. Alyssa has A-cup titties with prominent, speckled areolae, She has a cute little ass that she loves to show off for our viewing pleasure. She bends over and spreads her butthole, then bends over a little further, so much so that your cock's going to start to ache. She lays down on the couch, plays with herself, rubs her pussy, spreads her legs a little wider, rubs her pussy more vigorously. She has thick pussy lips. A guy walks over. If he were a gentleman, he'd eat Alyssa's pussy. But he's not. And since she's a lady, she takes out his cock and strokes it. "You have a nice cock," she says as she tugs on his dick while fingering her pussy. "It feels amazing." The guy ends up cumming on her face. It looks amazing.
More Amateurs »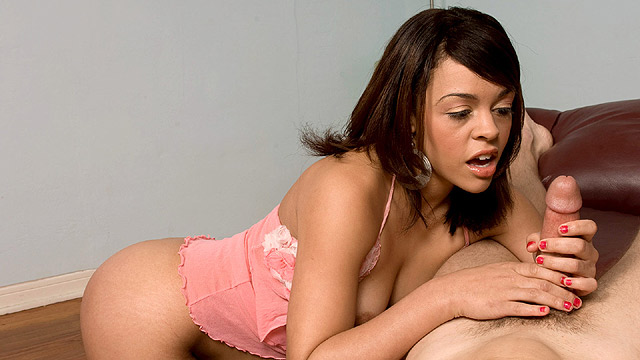 When this video opens, Bella Rios, a 19-year-old from Syracuse, New York, looks so cute sitting in the corner, like a student who's done something wrong. But Bella hasn't done anything wrong. Far from it. With her short, denim skirt, sexy heels and revealing top, Bella is 100% all right! "I'm gonna give a hand job," she tells our interviewer. You'll enjoy Bella's B-cup tits, firm ass and hoopy slut earrings. "I've never done this before," Bella says as she prepares to handle the cock. "This is my first time on camera." We think she has a future. She looks so happy when she's jacking the cock, smiling a lot, handling the cock expertly. Our interviewer asks, "Are you sure it's your first time?" Hey, buddy, stop asking so many questions. Can't you see the girl's busy!
More Amateurs »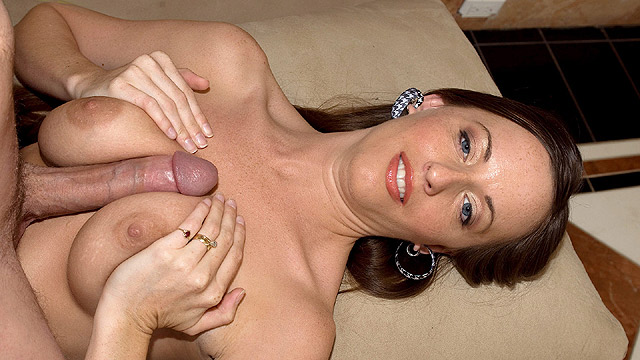 "If I want you, I'll tell you," says 27-year-old student Juliet Chase, "We begin with clit licking and fingering, then I'll suck you good before we screw. I like hard sex in any position with you in control, but still fondling and kissing. I'll probably cum twice." Once is enough for us, and we're already popping wood when Juliet shows off her beautiful tits and round, firm ass that looks great for fucking. "I've never had anal sex, but I've definitely had lots of offers," Juliet said, laughing. "The funny thing is, guys always say how much they want my pussy and ass, but you wouldn't believe how many guys have cum just from me jacking them off." Uh, we believe it, Juliet. "That's why I've gotten so good at getting myself off with my fingers when I'm giving a guy a tug job. I'm not being conceited when I say I might be the best jacker in the world." When this video opens, Juliet is looking super-sexy in her sheer top. We can see her nipples right through it, but Juliet doesn't tease for long. She takes off her top, revealing her C-cup tits, then takes off her tiny denim skirt, revealing a great ass: round and firm. Absolutely fuckable. "Looks ike like you are getting nice nice and hard," she says to us. "Do you like what you see?" She puts on a little ass show, and if you weren't hard before, you will be now. "I want to feel it between my fingers, nice and hard and thick," she says as she fingers her pussy. "I'm getting wetter the harder that cock gets." She whips it out. "Ooooh, that's a nice cock. I'm going to jack you off so good." Juliet does it all in this scene, rubbing the cock against her tits, then tit-fucking the cock. Spitting on it. Making cum faces into the camera. This chick has "future porn star" written all over her. Betcha we're right.
More Amateurs »