Popular Hand Jobs (Page 2)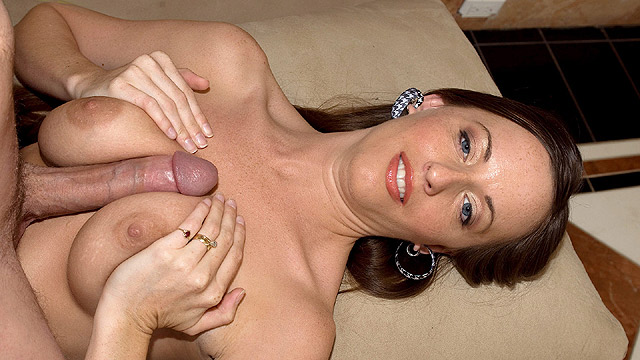 "If I want you, I'll tell you," says 27-year-old student Juliet Chase, "We begin with clit licking and fingering, then I'll suck you good before we screw. I like hard sex in any position with you in control, but still fondling and kissing. I'll probably cum twice." Once is enough for us, and we're already popping wood when Juliet shows off her beautiful tits and round, firm ass that looks great for fucking. "I've never had anal sex, but I've definitely had lots of offers," Juliet said, laughing. "The funny thing is, guys always say how much they want my pussy and ass, but you wouldn't believe how many guys have cum just from me jacking them off." Uh, we believe it, Juliet. "That's why I've gotten so good at getting myself off with my fingers when I'm giving a guy a tug job. I'm not being conceited when I say I might be the best jacker in the world." When this video opens, Juliet is looking super-sexy in her sheer top. We can see her nipples right through it, but Juliet doesn't tease for long. She takes off her top, revealing her C-cup tits, then takes off her tiny denim skirt, revealing a great ass: round and firm. Absolutely fuckable. "Looks ike like you are getting nice nice and hard," she says to us. "Do you like what you see?" She puts on a little ass show, and if you weren't hard before, you will be now. "I want to feel it between my fingers, nice and hard and thick," she says as she fingers her pussy. "I'm getting wetter the harder that cock gets." She whips it out. "Ooooh, that's a nice cock. I'm going to jack you off so good." Juliet does it all in this scene, rubbing the cock against her tits, then tit-fucking the cock. Spitting on it. Making cum faces into the camera. This chick has "future porn star" written all over her. Betcha we're right.
More Amateurs »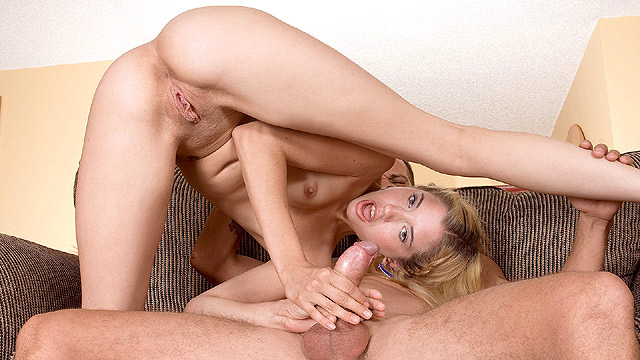 Ya gotta hand it to Chrissie-actually, she has to hand it to you!-a 20-year-old sexpot from New York. She shows up for an interview wearing a tiny bikini top and a short skirt. Her G-string is exposed above the skirt, and we can see her tramp stamp, too. Now, this guy who's interviewing her...we don't know what the fuck he's saying half the time, but Chrissie doesn't care. "I'm going to make sure I get this job," Chrissie says as she strokes his leg all the way up to his cock. "Your cock is getting so nice and hard-" Chrissie says. "I think he wants to come out and play." So Chrissie takes it out and shows off some impressive skills, jacking him with both hands, spitting all over his cock and fingering her pussy, which gapes quite a bit for a 20-year-old's cunt. Does Chrissie get the job? Fuck if we know! We've never made it to the end of the video without cumming.
More Amateurs »
Shaye Bennett, a 20-year-old student from Bangor, Maine, wastes no time taking off her clothes--what little there is of them--at the start of this video. Yeah, it's a sexy outfit, but she knows we'd rather see her naked. Then she bends over. "I know you like my ass," she says before teasing, "So, is that cock getting hard yet?" You know it is. "Come over here and let me stroke it for you." Obviously, if Shaye were in the military, she'd be the one barking out orders. "COCK OUT! STAND AT ATTENTION! STROKE IT, CADET!" We love how Shaye strokes this guy's cock through his shorts. We love how she lubes it up and strokes it from top to bottom, how she stares at the hard-on so lovingly. "I do love it," Shaye told us. "To me, the only thing that's more beautiful than a hard cock is a hard cock that's spurting cum. Preferably on my face." That can be arranged, Shaye. Now, at ease!
More Amateurs »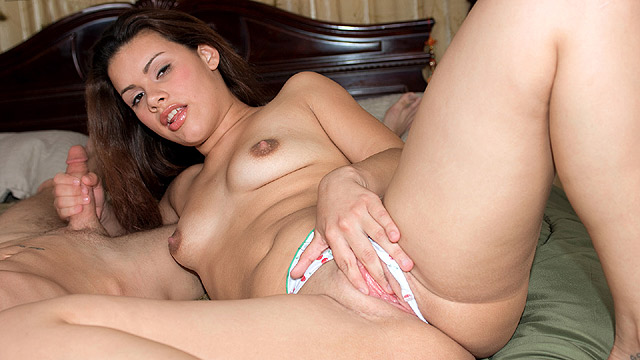 Ariel, 19 from San Diego, California, is lying on a bed, showing off her ass. She's got on a little g-string, and she spreads her ass without even being asked. The G-string cuts right through her cheeky butt, and we can see the outer edges of her pussy. She's wearing a shirt that says "RENEGADE," and she looks like a wild girl. Her dark, brown nipples are very hard. "I'm turned on," she says. "I'm a long and slow stroker. I'm such a dirty girl. It feels so good in my hands." Ariel aims to please. "Do you like that? Do you want me to go faster? Harder." She jacks it very fast, then gets on all fours. He fingers her pussy while she jacks him, and we can hear her cunt going squishy-squashy. She fingers her pussy and cums while jacking his cock. She cums before he does, which is the right thing to do. But don't worry. He cums. So will you. "I'm always embarrassed about making noise when I'm having sex, but I can't help squeaking," said Ariel Lopez, who's 19, works in a department store and is from San Diego California. This is the most exciting thing she's ever done. "Sometimes I dig my nails into my guy or scratch him, and I know I move a lot. I get embarrassed, too, 'cause my pussy floods and makes a mess." Don't be embarrassed, Ariel. Guys love flooded pussy. By the way, Ariel isn't embarrassed about one thing. "Jacking somebody off? I love it," she said. "I'm a good jacker." We'll be the judges of that.
More Amateurs »