Popular Hand Jobs (Page 3)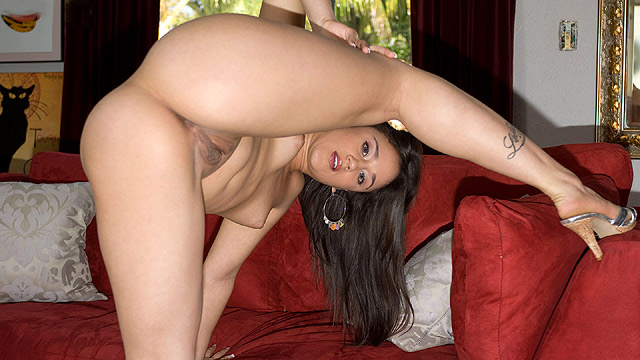 By day, she's a receptionist. Twenty-one years old. Lives in Miami. Nice, firm A-cup tits. But the history of the world is replete with pretty young girls who were receptionists, secretaries or waitresses, caught the eye of a talent scout and went on to fame and fortune. Lynn Love just might be one of those girls. She's got the looks. And she talks a damn good game. "Let me show you my tits," she says, then follows through on her promise. "If you like my tits, I bet you love my ass. Let me show you." That's a bet we're not making because we know we're going to be losers. But we're all winners when a chick like Lynn is taking off her clothes and stroking a hard cock for our jacking pleasure. Lynn, you're going to be a star. And if you're not, you can come by and jack us anytime! Lynn Love, 21 from Miami, Florida, makes us the recipients of a virtual tug job in this point-of-view video. The guy never says a word, which is great. Lynn says it all. She takes off her thong panties and slaps her small, firm ass. "Do you like that? So is this cock nice and hard? Why don't I go and stroke it for you?" She plays with our cock through our shorts and then takes it out. "It feels so nice between my hands," she says. "Do you like the way I move my hands up and down your cock? Let me take your shorts off." Then she lubes up our cock, and as if we needed any more help, she says, "I bet if I show you my ass, it would turn you on even more." She takes off her panties, spreads her ass and then bends down and strokes our cock with two hands. Then she bends over and strokes it between her legs. "Let me show you my pussy and see how you like that," she says. We like it. She likes it, too.
We blurred April's face in these photos because she asked us to. Seems as if her boyfriend found out about her shooting for NaughtyMag.com, and she concocted some lie about only doing solo photo and video shoots...and, well, long story short, we're romantics and we'd hate to break up a happy couple. But back to April. She's the kind of chick who, if you saw her walking down the street, maybe wearing the blue tube top she's wearing in this video, you'd say to yourself, "Man, I'd like to cum all over her face." And here's the deal: If you asked her, she'd probably let you. "Whip it out, big boy!" she says to the complete stranger she's jacking in this video. "You think you can handle this naughty girl?" Well, he doesn't have to handle her. She has to handle him. And she does just fine.