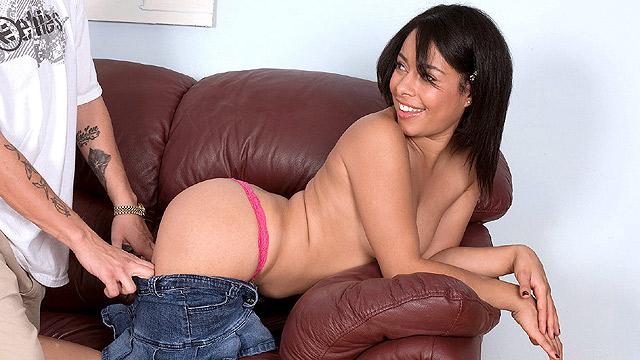 The idea here is that 23-year-old Mia Ciccone is checking out her email. "There's a guy who sent me a picture of his cock," she says. "It looks pretty promising. I hope this guy can hold up." With Mia doing the holding, he's going to have no trouble holding up. She takes off her red halter-top and jiggles her small, firm tits. Her ass is barely covered by a tiny thong. She takes out his cock and jacks it. "Oh, nice," she says. She plays with her pussy while she's jacking him, and her little hands barely fit around his big cock. She wants it. You know she does. She bends over and rubs her pussy while jacking his cock, making sure we get a view of her ass. While she's jacking him, his cock is inches away from her mouth. Ah, so close, but yet so far away. Not with Mia. Her hands are better than most chicks' mouths. Watch and see.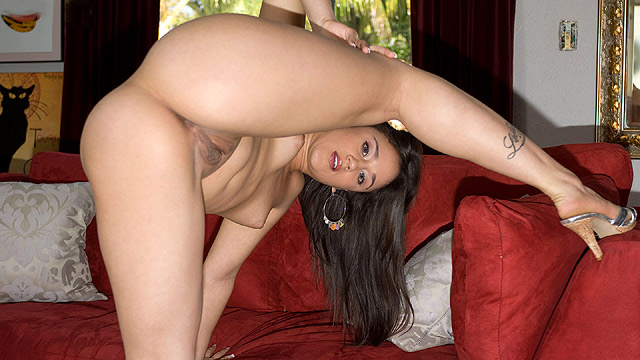 By day, she's a receptionist. Twenty-one years old. Lives in Miami. Nice, firm A-cup tits. But the history of the world is replete with pretty young girls who were receptionists, secretaries or waitresses, caught the eye of a talent scout and went on to fame and fortune. Lynn Love just might be one of those girls. She's got the looks. And she talks a damn good game. "Let me show you my tits," she says, then follows through on her promise. "If you like my tits, I bet you love my ass. Let me show you." That's a bet we're not making because we know we're going to be losers. But we're all winners when a chick like Lynn is taking off her clothes and stroking a hard cock for our jacking pleasure. Lynn, you're going to be a star. And if you're not, you can come by and jack us anytime! Lynn Love, 21 from Miami, Florida, makes us the recipients of a virtual tug job in this point-of-view video. The guy never says a word, which is great. Lynn says it all. She takes off her thong panties and slaps her small, firm ass. "Do you like that? So is this cock nice and hard? Why don't I go and stroke it for you?" She plays with our cock through our shorts and then takes it out. "It feels so nice between my hands," she says. "Do you like the way I move my hands up and down your cock? Let me take your shorts off." Then she lubes up our cock, and as if we needed any more help, she says, "I bet if I show you my ass, it would turn you on even more." She takes off her panties, spreads her ass and then bends down and strokes our cock with two hands. Then she bends over and strokes it between her legs. "Let me show you my pussy and see how you like that," she says. We like it. She likes it, too.
Top-Rated Hand Jobs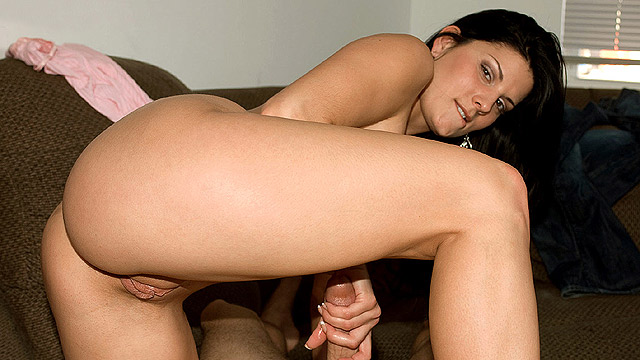 Erin, who's 27 and from Georgia, is a Massage Therapist. So you know she's very good with her hands. She also has an interesting mind. "I once had a dream that I was having sex with a robot," she said. "It had a perfectly chiseled body, and I could command it to do whatever I wanted it to do. When I woke up, my pussy was wet and throbbing." Erin always has sex on her mind. "I like to get a little rough and talk dirty," she said. "Most guys love a girl who talks dirty, even if they won't admit it. One time I was jacking a guy off, and I said, 'My cunt is getting so wet from playing with your cock.' The second I said cunt, he popped." Who can blame him? We would have, too. Erin knows how to get us off. She starts off with a slow strip, licking her nipples. She's standing at a bar. "Can I get you something to drink?" she asks. "Maybe something sweet, fruity? Maybe some hard liquor. Would you like something on the rocks?" She rubs an ice cube against her nipples, then rubs it against her stomach. Then she starts getting creative. She pours herself a shot and says, "Why don't you come here and do a body shot?" She pours the shot down her cleavage, and the guy eagerly licks it off her body. She licks some off her tits, too, then takes his cock out and starts jacking him. We get a great close-up of her shaved pussy as she slowly strokes his dick. She has her pussy up against his cock while she's jacking it, and this guy is as close as he can get to her pussy without actually fucking it. "You want to shoot a nice, big load, don't you?" she says. "All over my titties." Wherever. We just want to shoot.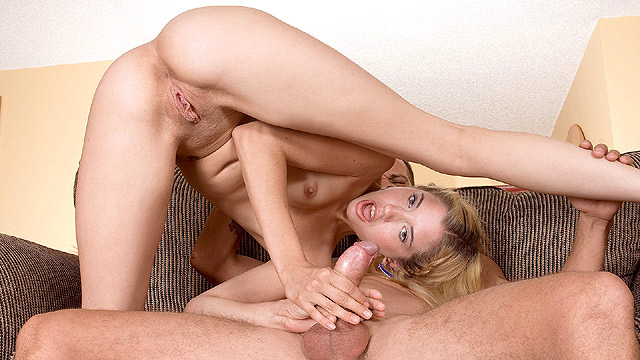 Ya gotta hand it to Chrissie-actually, she has to hand it to you!-a 20-year-old sexpot from New York. She shows up for an interview wearing a tiny bikini top and a short skirt. Her G-string is exposed above the skirt, and we can see her tramp stamp, too. Now, this guy who's interviewing her...we don't know what the fuck he's saying half the time, but Chrissie doesn't care. "I'm going to make sure I get this job," Chrissie says as she strokes his leg all the way up to his cock. "Your cock is getting so nice and hard-" Chrissie says. "I think he wants to come out and play." So Chrissie takes it out and shows off some impressive skills, jacking him with both hands, spitting all over his cock and fingering her pussy, which gapes quite a bit for a 20-year-old's cunt. Does Chrissie get the job? Fuck if we know! We've never made it to the end of the video without cumming.