Shaye Bennett, a 20-year-old student from Bangor, Maine, wastes no time taking off her clothes--what little there is of them--at the start of this video. Yeah, it's a sexy outfit, but she knows we'd rather see her naked. Then she bends over. "I know you like my ass," she says before teasing, "So, is that cock getting hard yet?" You know it is. "Come over here and let me stroke it for you." Obviously, if Shaye were in the military, she'd be the one barking out orders. "COCK OUT! STAND AT ATTENTION! STROKE IT, CADET!" We love how Shaye strokes this guy's cock through his shorts. We love how she lubes it up and strokes it from top to bottom, how she stares at the hard-on so lovingly. "I do love it," Shaye told us. "To me, the only thing that's more beautiful than a hard cock is a hard cock that's spurting cum. Preferably on my face." That can be arranged, Shaye. Now, at ease!
Sherry is only 20 years old (from Georgia by way of Pennsylvania) and she's already jacking cocks in front of the camera. She's good at it, too. You see Sherry is a naughty girl. She is a nasty girl. She loves hard dick. "My sexual fantasy involves two bitches and some whipped cream," she said. She masturbates once in a while but not too often because, "I get all the dick I need whenever I need it. I'm not afraid to ask." When Sherry posed for these photos, she said, "I love showing off my ass. I do it whenever I can." She also said, "It's only a matter of time before I suck and fuck on camera. But this is a lot of fun for starters. Making cock cum is fun," she said. It's fun to watch, too. When this video opens, Sherry is sitting on a bed, and she looks like she wants it. Wants cock. Turns out that her job is to find out if the guy we just hired has what it takes to be an on-camera stud. Well, Sherry is a bad judge of that because she could get a dead man hard with her hot body and naughty talk. "Do you like that ass?" she says as she slaps it. "Why don't you come over here so I can play with your cock." The guy doesn't need to be asked twice. He comes over, and she takes his dick out. "Oh, I like this big, long cock," she says. "Does it feel good, baby? I want to put your cock in my mouth. Maybe next time." She uses long, slow strokes, then he gets on his back and she jacks his cock wit her ass in the air. "I just love to stroke cock," she says. "Do you wish this was your cock?" Uh, it isn't?
Top-Rated Hand Jobs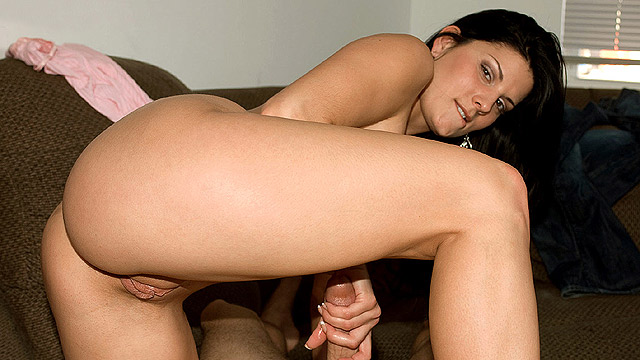 Erin, who's 27 and from Georgia, is a Massage Therapist. So you know she's very good with her hands. She also has an interesting mind. "I once had a dream that I was having sex with a robot," she said. "It had a perfectly chiseled body, and I could command it to do whatever I wanted it to do. When I woke up, my pussy was wet and throbbing." Erin always has sex on her mind. "I like to get a little rough and talk dirty," she said. "Most guys love a girl who talks dirty, even if they won't admit it. One time I was jacking a guy off, and I said, 'My cunt is getting so wet from playing with your cock.' The second I said cunt, he popped." Who can blame him? We would have, too. Erin knows how to get us off. She starts off with a slow strip, licking her nipples. She's standing at a bar. "Can I get you something to drink?" she asks. "Maybe something sweet, fruity? Maybe some hard liquor. Would you like something on the rocks?" She rubs an ice cube against her nipples, then rubs it against her stomach. Then she starts getting creative. She pours herself a shot and says, "Why don't you come here and do a body shot?" She pours the shot down her cleavage, and the guy eagerly licks it off her body. She licks some off her tits, too, then takes his cock out and starts jacking him. We get a great close-up of her shaved pussy as she slowly strokes his dick. She has her pussy up against his cock while she's jacking it, and this guy is as close as he can get to her pussy without actually fucking it. "You want to shoot a nice, big load, don't you?" she says. "All over my titties." Wherever. We just want to shoot.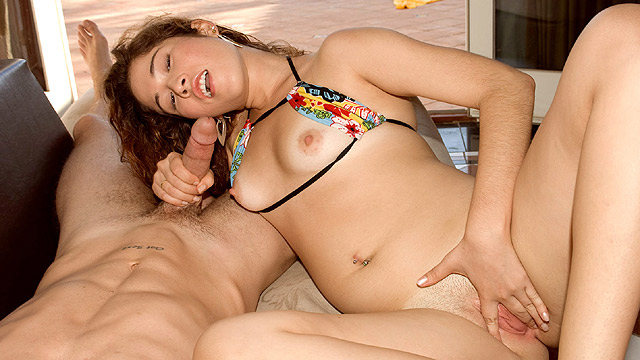 You know what we love? We love when a chick is so dedicated to getting us off that she gets on all fours, opens up her legs and gives us a dead-on view of her naked pussy and asshole while she's jacking a cock. That's what exotic Goldie does in these photos, and it's a sign of great things to come. She also blows on the hard-on, spits on it and gets her mouth oh-so-enticingly close to the cock. Damn good for a 19-year-old. Yeah, we said 19-year-old. And if you weren't hard as a rock before, you are now. Goldie, who's only 19, is sunning herself by the pool when this video opens. She's hot, so she jumps into the pool, but when she gets out, she's even hotter. "So you've been watching me, huh?" she says. Then she spits on her hands, and we know why. "Is your dick getting hard? You ready for me to jerk it off and make you cum? Let's see how long it takes." Probably not too long. The pre-cum is seeping out of our cocks already. Next, Goldie takes her tits out and strokes the cock. She's a two-handed stroker, and that's a good thing. "You like this?" she says, stroking cock while rubbing her pussy. "Your dick's making my pussy all wet. It feels good, huh?" It feels great. And Goldie's only just begun to tug.