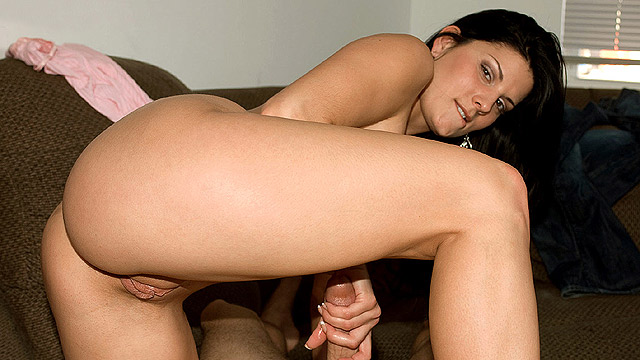 Erin, who's 27 and from Georgia, is a Massage Therapist. So you know she's very good with her hands. She also has an interesting mind. "I once had a dream that I was having sex with a robot," she said. "It had a perfectly chiseled body, and I could command it to do whatever I wanted it to do. When I woke up, my pussy was wet and throbbing." Erin always has sex on her mind. "I like to get a little rough and talk dirty," she said. "Most guys love a girl who talks dirty, even if they won't admit it. One time I was jacking a guy off, and I said, 'My cunt is getting so wet from playing with your cock.' The second I said cunt, he popped." Who can blame him? We would have, too. Erin knows how to get us off. She starts off with a slow strip, licking her nipples. She's standing at a bar. "Can I get you something to drink?" she asks. "Maybe something sweet, fruity? Maybe some hard liquor. Would you like something on the rocks?" She rubs an ice cube against her nipples, then rubs it against her stomach. Then she starts getting creative. She pours herself a shot and says, "Why don't you come here and do a body shot?" She pours the shot down her cleavage, and the guy eagerly licks it off her body. She licks some off her tits, too, then takes his cock out and starts jacking him. We get a great close-up of her shaved pussy as she slowly strokes his dick. She has her pussy up against his cock while she's jacking it, and this guy is as close as he can get to her pussy without actually fucking it. "You want to shoot a nice, big load, don't you?" she says. "All over my titties." Wherever. We just want to shoot.
More Amateurs »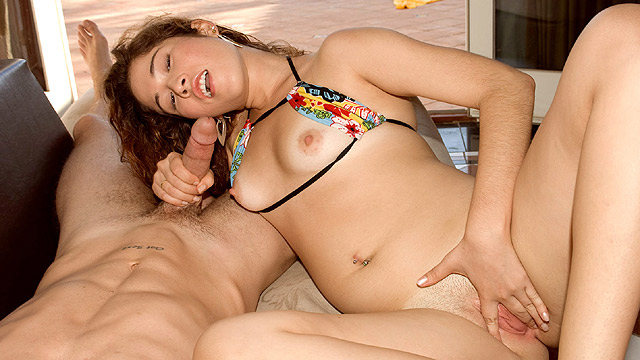 You know what we love? We love when a chick is so dedicated to getting us off that she gets on all fours, opens up her legs and gives us a dead-on view of her naked pussy and asshole while she's jacking a cock. That's what exotic Goldie does in these photos, and it's a sign of great things to come. She also blows on the hard-on, spits on it and gets her mouth oh-so-enticingly close to the cock. Damn good for a 19-year-old. Yeah, we said 19-year-old. And if you weren't hard as a rock before, you are now. Goldie, who's only 19, is sunning herself by the pool when this video opens. She's hot, so she jumps into the pool, but when she gets out, she's even hotter. "So you've been watching me, huh?" she says. Then she spits on her hands, and we know why. "Is your dick getting hard? You ready for me to jerk it off and make you cum? Let's see how long it takes." Probably not too long. The pre-cum is seeping out of our cocks already. Next, Goldie takes her tits out and strokes the cock. She's a two-handed stroker, and that's a good thing. "You like this?" she says, stroking cock while rubbing her pussy. "Your dick's making my pussy all wet. It feels good, huh?" It feels great. And Goldie's only just begun to tug.
More Amateurs »
Alyssa seems a little ditzy, but give her a break. "I'm a little horny," says this 18-year-old, 4'11" cutie from Orlando, Florida. Alyssa has A-cup titties with prominent, speckled areolae, She has a cute little ass that she loves to show off for our viewing pleasure. She bends over and spreads her butthole, then bends over a little further, so much so that your cock's going to start to ache. She lays down on the couch, plays with herself, rubs her pussy, spreads her legs a little wider, rubs her pussy more vigorously. She has thick pussy lips. A guy walks over. If he were a gentleman, he'd eat Alyssa's pussy. But he's not. And since she's a lady, she takes out his cock and strokes it. "You have a nice cock," she says as she tugs on his dick while fingering her pussy. "It feels amazing." The guy ends up cumming on her face. It looks amazing.
More Amateurs »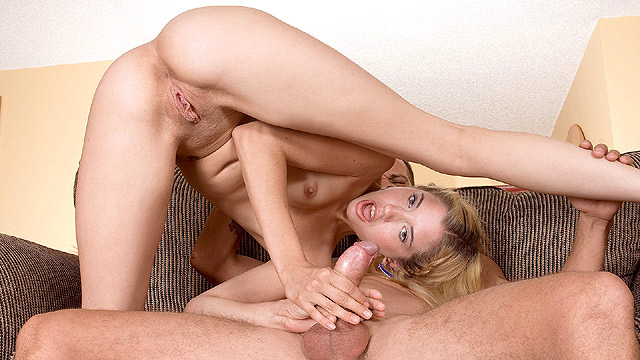 Ya gotta hand it to Chrissie-actually, she has to hand it to you!-a 20-year-old sexpot from New York. She shows up for an interview wearing a tiny bikini top and a short skirt. Her G-string is exposed above the skirt, and we can see her tramp stamp, too. Now, this guy who's interviewing her...we don't know what the fuck he's saying half the time, but Chrissie doesn't care. "I'm going to make sure I get this job," Chrissie says as she strokes his leg all the way up to his cock. "Your cock is getting so nice and hard-" Chrissie says. "I think he wants to come out and play." So Chrissie takes it out and shows off some impressive skills, jacking him with both hands, spitting all over his cock and fingering her pussy, which gapes quite a bit for a 20-year-old's cunt. Does Chrissie get the job? Fuck if we know! We've never made it to the end of the video without cumming.
More Amateurs »